Corona virus (Covid-19) has posed many unanswered questions. From the health of the infants to elderly and now expectant mothers.
Most people thought since pregnant mothers are normally weaker, they proposed they should be isolated and stay at home to avoid being exposed to the pandemic.
However, although there is still some mystery about the "China-flu" as it is deemed, health experts have come up to advise and answer some common queries on Corona pandemic and pregnancy.
Below are some of the advise to the most common concerns about this deadly disease and effect to pregnant and breastfeeding mothers
Are pregnant women more likely to catch coronavirus?
There's no evidence that a mother can infect her baby with the coronavirus while pregnant or that infants can be infected during birth, said Dr. Denise J. Jamieson, M.D., M.P.H., chairwoman of gynecology and obstetrics at the Emory University School of Medicine.
The Royal College of Obstetricians and Gynaecologists and the Royal College of Midwives (RCOG)
says pregnant women do not appear to be more susceptible to the virus than the rest of the public, although at this point the data available is limited.
There is also no evidence which suggests that Covid-19 increases the risk of miscarriage or early pregnancy loss.
" It is expected the large majority of pregnant women will experience only mild or moderate cold/flu like symptoms," says the RCOG.
There are no reported deaths of pregnant women from coronavirus at the moment.
Dr Edward Morris, president of the RCOG says: "We would like to reassure pregnant women that, as things stand, no new evidence has come to light suggesting they are at higher risk of becoming seriously unwell compared with other healthy individuals.
"Pregnant women who can work from home should do so. If you can't work from home, if you work in a public-facing role that can be modified appropriately to minimise your expose, this should be considered and discussed with your occupational health team."
Can coronavirus be passed to your baby?
Dr Morris said: "While the data is currently limited it is reassuring that there is no evidence that the virus can pass to a baby during pregnancy.
"It is therefore considered unlikely that if you have the virus it will cause abnormalities in your baby."
But he did add that guidance will be kept under regular review as new evidence emerges.
Some babies born to women with symptoms of coronavirus in China have been born prematurely. It is unclear whether coronavirus caused this or the doctors made the decision for the baby to be born early because the woman was unwell.
Is it safe to breastfeed?
At present, there is no evidence that the virus can be carried in breast milk, so it is felt the benefits of breastfeeding outweigh any potential risks of transmission of coronavirus through breast milk.
Gill Walton, Chief Executive of the Royal College of Midwives, said: "I would also advise women to speak to their midwife who will be able to keep them informed and tailor their care around their local situation."
How can pregnant women protect themselves from getting COVID-19?
Pregnant women should do the same things as the general public to avoid infection. You can help stop the spread of COVID-19 by taking these actions:
Cover your cough (using your elbow is a good technique)
Avoid people who are sick
Clean your hands often using soap and water or alcohol-based hand sanitizer
Can COVID-19 cause problems for a pregnancy?
We do not know at this time if COVID-19 would cause problems during pregnancy or affect the health of the baby after birth.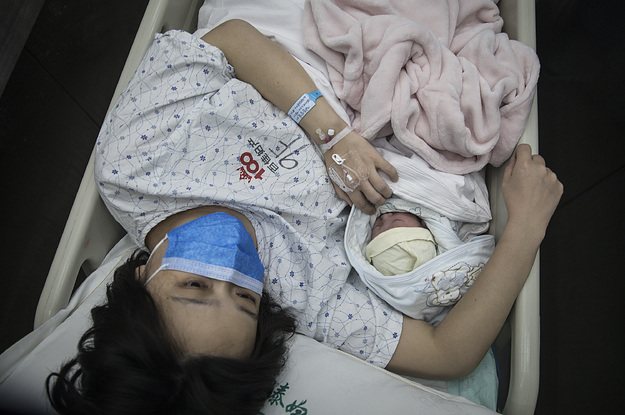 If a pregnant woman infected with Covid-19 and gives birth will she be separated from her baby?
On the current information available, medics say there is no evidence to suggest that separating a baby from an infected mother will be helpful. Instead, this could cause significant distress for the mum and baby.
Professor Russell Viner, President of The Royal College of Paediatrics and Child Health, said: "The situation is now developing very quickly and this guidance is based on a thorough review of the evidence – limited though that is.
"Based on current evidence, we don't believe that babies born to women who test positive for coronavirus should be separated.
"The impact of this separation, even as a precaution, can be significant on both the baby and the mother. We will review this recommendation as we see more evidence in the weeks and months ahead."
How many pregnant women have been infected worldwide?
We don't have good data on this.
"Many infectious disease surveillance symptoms are not set up to collect pregnancy status," Dr. Jamieson said. "And in order to know how many pregnant women in the U.S. eventually get coronavirus, we need to ask about pregnancy status and collect that information systematically."
So far in the United States, there are no reports of a pregnant woman with the virus.
Guidance on breastfeeding for mothers with confirmed COVID-19 or under investigation for COVID-19
Breast milk is the best source of nutrition for most infants. However, much is unknown about COVID-19. Whether and how to start or continue breastfeeding should be determined by the mother in coordination with her family and healthcare providers.  A mother with confirmed COVID-19 or who is a symptomatic PUI should take all possible precautions to avoid spreading the virus to her infant, including washing her hands before touching the infant and wearing a face mask, if possible, while feeding at the breast.  If expressing breast milk with a manual or electric breast pump, the mother should wash her hands before touching any pump or bottle parts and follow recommendations for proper pump cleaning after each use. If possible, consider having someone who is well feed the expressed breast milk to the infant.
Is there a vaccine?
The vaccine for the new coronavirus is at least a year away, if not longer, experts said.
In the meantime, make sure you get the flu vaccine. While a flu shot will not protect you from coronavirus, it will help protect you from the flu. Flu season generally peaks between December and February, but flu viruses are still circulating and they can make pregnant women severely ill.
You should also make sure you get the Tdap combination vaccine, which protects against tetanus, diphtheria and pertussis (also known as whooping cough).
Only about one-third of pregnant women in the United States receive both the flu and whooping cough vaccines, according to the C.D.C., but experts say that receiving both is important — not only for a mother, but for her baby, too.
Nearly 70 percent of whooping cough deaths occur in babies less than 2 months old, the C.D.C. said. And if a pregnant woman contracts any type of illness resulting in a fever — like the flu — it can pose rare but serious risks to the baby in the first trimester, Dr. Jamieson said.
(Sourced from: Royal College of Obstetricians & Gynaecologists and Center fo Disease Control and Prevention)
Patients living with corona-virus
https://youtu.be/Wak8UQebNDs