The Makerere University School of Psychology President, Roy Rugumayo has issued a warning to the University Vice Chancellor, Prof. Barnabus Nawangwe against  intimidating students with suspension letters and arrests.
In a letter with the 'Young Democrats' signature, Rugamayo gave the Vice Chancellor only 72 days to address the issue and to withdraw all the allegations that were evoked on the suspended students.
However, the letter does not specify the penalty involved incase the chancellor fails to comply with the stated period of time.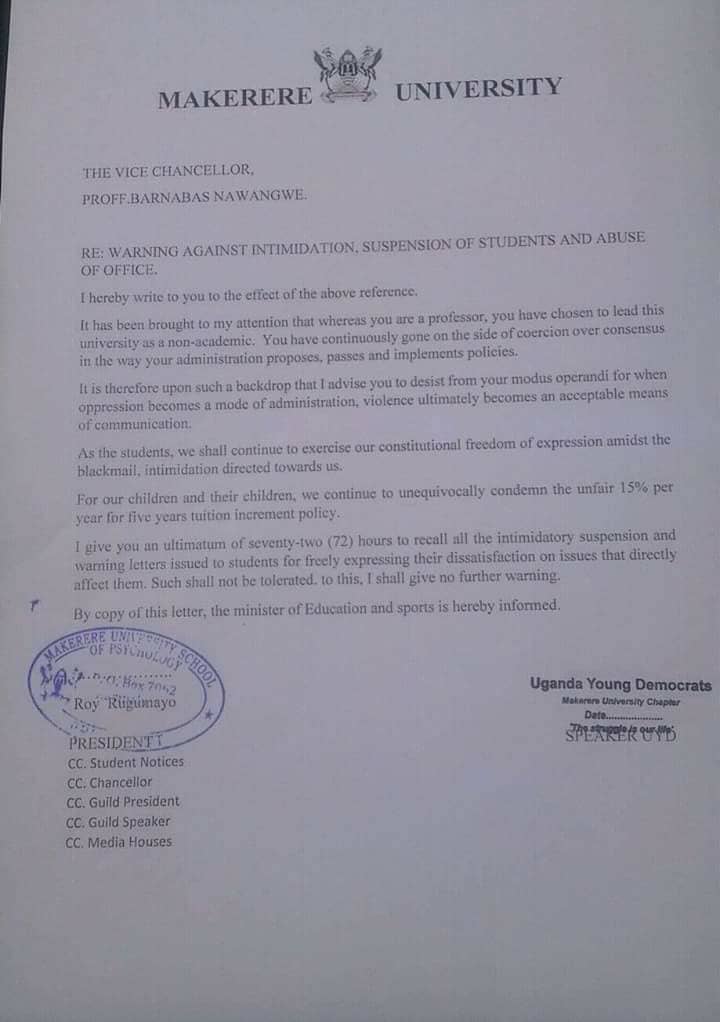 He further reminds Prof. Nawangwe of the students' right to freedom of expression and demonstration against any form of injustices.
"for our children and their children we continue to unequivocally condemn the unfair 15% per year for five years tuition increment,"
Apart from being the President of the School of Psychology, Rugamayo is also the Speaker of the Makerere chapter of the Uganda Young Democrats (UYD).
In 2017, the activist was arrested and detained on police remand for a month over protesting against the detention of woman activist, Dr. Stellah Nyanzi over cyber crimes and abusing the person of the President.
Unfortunately for the followers of this development, Rugumayo doesn't clearly stipulate what action he will take incase his ultimatum is not heeded to.