The European School of Management Technology in cooperation with the Kofi Annan Business School Foundation offers fellowships to obtain a university degree in Europe at one of the academic partners of the Kofi Annan Business School Foundation.
The aim of the scholarship is to make significant contributions to least developed countries (LDCs) and landlocked developing countries (LLDCs); to strengthen the awareness of responsibility in leadership in developed countries.
ESMT Berlin was founded by 25 leading global companies and institutions. The international business school offers a full-time MBA, an executive MBA, a master's in management, as well as open enrollment and customized executive education programs. ESMT focuses on three main topics: leadership, innovation, and analytics. ESMT faculty publishes in top academic journals.
Applications Deadline: The MIM program starts in September of each year with a final application deadline of June 30. The MBA program begins in January of each year with a final application deadline of September 30.
Course Level: Scholarships are available to pursue Master degree programme.
Study Subject: Scholarships are awarded to study a two-year Master's in Management (MIM) or a one-year full-time MBA education at ESMT Berlin in Berlin, Germany.
Scholarship Award: Fellows will receive a full tuition scholarship from ESMT (€25,000 for MIM students and €43,500 for MBA students) plus fair compensation for travel and accommodation costs and program related fees.
Nationality: This scholarship is available for students from Developing Countries.
Number of Scholarships: Up to five fellowships are available.
Scholarship can be taken in Germany
Eligibility for the Scholarship: 
Eligible Countries: This scholarship is available for students from Developing Countries:
Afghanistan, Algeria, Angola, Antigua and Barbuda, Argentina, Armenia, Azerbaijan, Bahamas, Bahrain Bangladesh, Barbados, Belarus, Belize, Benin, Bhutan, Bolivia, Bosnia and Herzegovina, Botswana, Brazil, Brunei, Bulgaria, Burkina Faso, Burma, Burundi, Cambodia, Cameroon, Cape Verde, Central African, Republic Chad, Chile, People's Republic of China, Colombia, Comoros, Democratic Republic of the Congo, Republic of the Congo, Costa Rica, Ivory Coast, Croatia, Djibouti, Dominica, Dominican Republic, Ecuador, Egypt, El Salvador, Equatorial Guinea, Eritrea, Ethiopia, Fiji, Gabon, The Gambia, Georgia, Ghana, Grenada, Guatemala, Guinea, Guinea, Bissau, Guyana, Haiti, Honduras, Hungary, Indonesia, India, Iran, Iraq, Jamaica, Jordan, Kazakhstan, Kenya, Kiribati, Kuwait, Kyrgyzstan, Laos, Latvia, Lebanon, Lesotho, Liberia, Libya, Lithuania, Macedonia, Madagascar, Malawi, Malaysia, Maldives, Mali, Marshall Islands, Mauritania, Mauritius, Mexico,  Federated States of Micronesia, Moldova, Mongolia, Montenegro, Morocco, Mozambique, Namibia, Nauru, Nepal, Nicaragua, Niger, Nigeria, Oman, Pakistan, Palau, Panama, Papua New Guinea, Paraguay, Peru, Philippines, Poland, Qatar, Romania, Russia, Rwanda, Saudi Arabia, Samoa, São Tomé and Príncipe, Senegal, Serbia, Seychelles, Sierra Leone, Solomon Islands, South Africa, Somalia, Sri Lanka, Saint Kitts and Nevis, Saint Lucia, Saint- Vincent and the Grenadines, South Sudan, Sudan, Suriname, Swaziland, Syria, Tajikistan, Tanzania, Thailand, Timor Leste, Togo, Tonga, Trinidad and Tobago, Tunisia, Turkey, Turkmenistan, Tuvalu, Uganda, Ukraine, United Arab Emirates, Uruguay, Uzbekistan, Vanuatu, Venezuela, Vietnam, Yemen, Zambia and Zimbabwe.
Entrance Requirements: Applicants must meet the following criteria:
Applicants must be resident in one of the UN's Least Developed Countries (LDCs), Landlocked Developing Countries (LLDCs) or Palestine.
Applications for Kofi Annan Fellowships are accepted and awarded on an ongoing basis during the application cycle. Any updates in the availability of the scholarships will be indicated here.
MIM applicants should have a Bachelor's degree in any discipline with excellent grades, less than 18 months of work experience, and proficient English skills. In certain cases a GMAT or GRE score may be requested.
MBA applicants should have a Bachelor's degree of any kind, a minimum of three years of professional experience, a GMAT or GRE score, and proficient English skills.
All applicants should have a willingness to contribute to building the economy and society of the home country with entrepreneurial impetus.
English Language/Test Requirements: Strong GMAT or GRE scores
The average GMAT score is 640. ESMT's MBA GMAT code is H4D-SJ-46 or simply search for ESMT by name. We also accept GRE scores, and our Designated Institution (DI) code is 7768.
TOEFL scores (95 minimum), PTE score (64 minimum), IELTS score (7 minimum) or other proficiency test. The ESMT TOEFL institution code is 8707.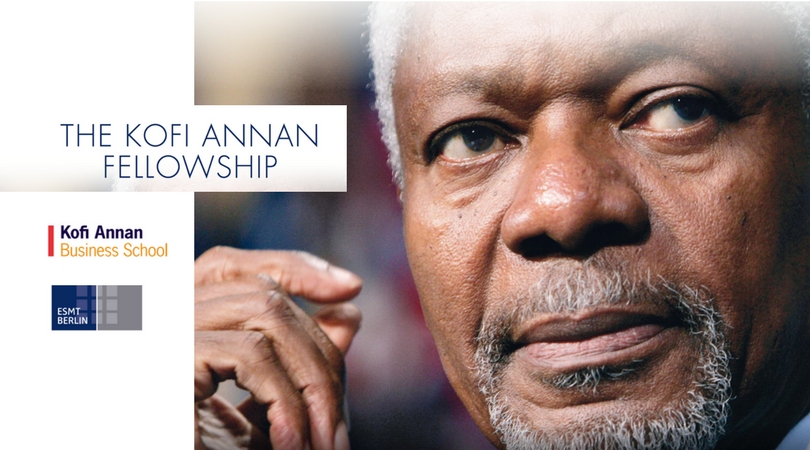 Application Procedure: 
How to Apply: The mode of applying is online. Potential applicants may also submit a short form for a preliminary check to determine whether they are eligible to apply.