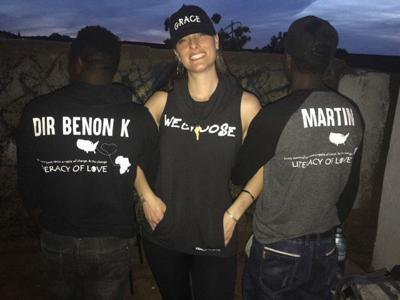 The Literacy of Love founder Cari Matejka is organizing a fashion show back in Orleans and all the proceeds will got to helping the orphans.
Literacy of Love is a Uganda orphanage with over 600 children receiving foster care and education.
Interested candidates for the modelling competitions will register with a small fee of $20 and also supply a white or black t-shirt, tank top or hoodie, which Literacy of Love will screen print with its own mantra, "We choose."
The first Mantra chartiy fashion will be held on June 6, 2019 and hosted at Good Times of Olean.
"There's dual purpose to it: We have a good message to give and we can have fun,
"The biggest expense always is paying for school because school costs money there," Matejka said.
It wont only be a modelling session but also include a debut of a music video produced by a Family By Choice member with lyrics co-written by Matejka. The video was shot in Uganda and is a collaboration with multiple Ugandan artists.
Mantra shirts will also be sold to increase on the proceeds. As covered by their fee, models will get their hair and and makeup styled, as well as a professional photo taken of them.
Literacy of Love was started in 2015 to benefit Bethlehem Parent's School and Orphanage in Uganda.
Among the new developments is the new living facility for the resident children there called Family by Choice Orphanage Home which costed approximately $25,000.
"That's what I try to instill in any of the kids I connect with Literacy of love: You care about things around you, then do something about it," Matejka said.