By Danbosco Mutaawe
Wanyera Simon a student at Makerere University who has been on the forefront of every strike at the university has made his name sound louder at the university and the neighboring areas. It's because of his endless involvement in the strikes and exhibition of a brave attitude during the move that he has won the name "The revolutionary son." He believes the voices of the oppressed can be easily heard through striking and it's a means of seeking for attention from administrators to have the problems of students addressed. "A strike is a cause, if they increase tuition some of us who come from humble families cannot raise that money and the only way is to join hands as Makererians and say no." Says Wanyera with a frowned face.
He went to Gangoma and Nasinnyi for his primary education, Mount Masaba secondary school for his O level education, Mbale comprehensive for A level education before he joined Makerere University for a bachelor's degree in education. Wanyera is a kind of man you would hardly believe to be as young as he really is because of his brevity and fame .His name sounds as if he is in his fifty's yet no even in thirties .It takes some period of time to sell off one's name just as Wanyera did. It's unbelievable but right that the president of Uganda himself knows him plus general Kale Kayihura and have always been critically following his activities. The fact is Wanyera was born twenty seven years ago in Mbale district. "President Museveni knows me, his wife Janet Kataaha Museveni and general Kale Kayihura and he is afraid of my activism for I am still a young man."
No amount of intimidation has driven him off truck, he has received a number of intimidations from the police, by unknown people using private phone numbers as well as the university administrators. They reached a level of expelling him out of the university but strikes are a means that was employed to fail this move were a great deal of angry students led by himself Wanyera condoned off the main building in demand for the revocation of the earlier decision to have the revolutionary son expelled. I want to assure you that they achieved this finally. "I have been threatened a lot by the university administration, by police, receiving calls from CIDs telling me how they could terminate me, how I wouldn't graduate, threatening to attack my family and sabotaging my life. But I am used to all this" Says Wanyera restlessly moving his hands.
Inspiration is derived from great activists like the late Nelson Mandela and Dr. Kiiza Besigye whom he smilingly says did and have done much to secure people's rights and speaking for the voiceless. He praises the courageous characters of the two activists and the strange brevity they exhibit while confronting the enemy. "Nelson Mandela and Dr. Kiiza Besigye are the two special people I have seen suffer and have inspired me." A wide open eyed Wanyera says.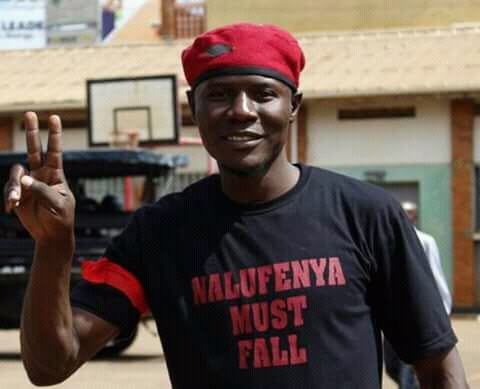 "Activism has created me social capital, so many people believe in me, I have met a lot of big people like Dr. Kiiza Besigye, Ingrid Turinawe and Doreen Nyanjura". Says Wanyera. He has met a great deal of high profile people mostly politicians who believe in defiance. Never does he regret for having involved himself in activism.
The Serbian revolution that was led by the university students is one of the movies that consumes Wanyera's time trying to watch how they made this great achievement. On top of which he reads revolutionary books and playing football during his free time. It's from these books and movies that he gains courage and knowledge to apply in the same field.
"I don't want see people suffer in life and if I can be of help I always want to use politics". With smile says Wanyera. Activism is mostly the fight intended to secure the rights of the many who may not have their voices easily heard. In the same manner the revolutionary son leads strikes not for personal gains but for the benefit of the many that are voiceless. Missing marks for the students, tuition increment and sexual harassment have always been the spark plug of the strikes.
Activism is set to continue even after school. He sees himself as a liberator of this country ten years to come through taking the same route.                                                       
"I want to now face him as a citizen not a student because I am not afraid of him." Says Wanyera with a frowned face.
READ ALSO:
Makerere University Suspended Students run to court
Former KIU lecturer,Drake Mugabi Dies From A Hit And Run Accident