Makerere University's former Vice Guild President, Ms. Mercy Lakisa has won an award for  at the  Fédération Internationale du Sport Universitaire (FISU).
The award was accorded for the Best project.
In a post on Tweeter, Makerere Vice chancellor, Prof.Barnabus Nawangwe has applauded Lakisa and apptreciated her efforts of raising the University's flag even after leaving campus.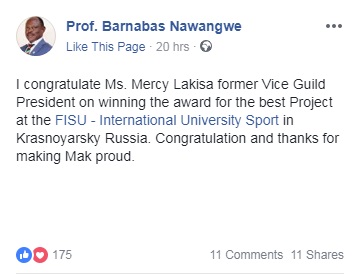 FISU is an  International University  for Sports founded in 1949 in Krasnoyarsky Russia as the world governing body of national university sports organisations and currently has 174 member associations.
FISU organises and governs worldwide sports competitions for student-athletes between the ages of 17 and 28.