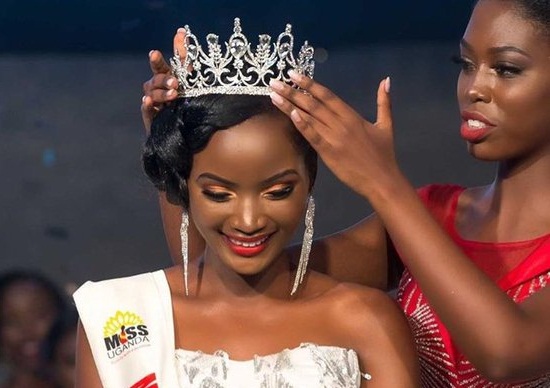 David Musiri, a second-year student at Makerere University has appealed the director of the Criminal Investigations Directorate (CID), Grace Akullo to closely examine Miss Uganda Quiin Abenakyo 'fake' degree.
 Musiri accuses the University Chancellor, Prof Barnabas Nawangwe of issuing fake degrees, diverting money meant for bursaries and corruption which he says; the chancellor should be accounted for. 
"About the degree that was offered to Quiin Abenakyo, I want and I have instructed the director CID, to also investigate deeply into that degree of Quinn Abenakyo. They should come with clarity and tell us whether they have given Quinn Abenakyo this as an award or as fake degree." said Musiri.
Abenakyo graduated with a second class degree in Business Computing on January 17 during the 69th graduation ceremony at Makerere University.
However according to a document seen by URN, Miss wrote to the Makerere University Business School (MUBS) principal, Prof Waswa Balunywa, on August 20, 2018,  to postpone her retake in 'financial management' until when she returns from the beauty contest that was to end in December.
When Abenakyo received no response from the principal, she, upon return from the world beauty pageant, sent in a formal request seeking to sit the exam and graduate after becoming Miss World Africa and among the top five contestants.
"I would wish to retake this examination so that I graduate. I gather that the graduation ceremony will take place on January 18th, please allow me to retake the paper and graduate", Abenakyo wrote.
Sources reveal that Balunywa instantly wrote to Nawangwe to grant the former authority of giving Quiin a special special examination on January 12 to enable her move on with other career plans.
"Allowing her to sit this examination would be a contribution of the institution in enabling her to pursue her career," Balunywa's read.
However, Prof. Nawangwe has refuted all the allegations claiming all the procedures towards awarding Abenakyo a degree were legal and clear.

In addition to the above allegations, Musiri claims his suspension from the university in 2018 for protesting against the 15 per cent tuition increment and cancelling out of his name from the Chinese embassy scholarship beneficiaries was done in an unfair manner.
"I have reasons to suspect that the duo divert that money and pocket it….they usually manufacture excuses for withdrawing bursaries arbitrarily from needy students, on the pretext of indiscipline, and they later divert it for themselves", the letter reads in part.